From The Lansing State Journal: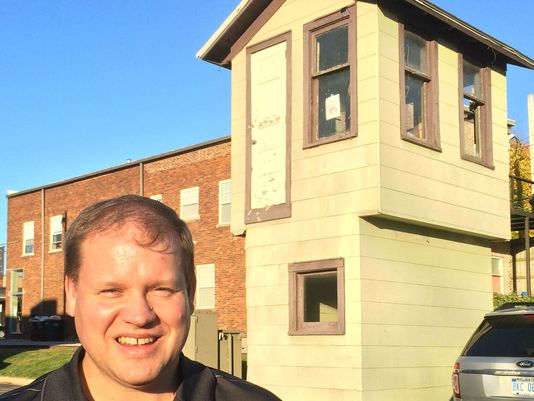 Model train lovers hope to preserve a piece of Lansing's railroad history by relocating and restoring a narrow two-story tower that once stood next to the Lansing Union Station that is now Clara's Restaurant.
I've craned my neck more than a few times as I wondered about the history of the quirky little building, which was relocated to Lansing's Old Town nearly 30 years ago.
It looks like a house built by Dr. Seuss.
Michael Frezell, president of the 40-member Lansing Model Railroad Club, asked Lansing Parks and Recreation officials last year if the building, known as the Michigan Avenue Tower, could be donated to the 40-member club.
The city has given its approval.
In 1986, Conrail retired the tower. It was moved from the former train station on Michigan Avenue and plopped down next to a city parking lot on Grand River to be part of a now-defunct electric train museum.
Instead, it has sat empty and marooned, and Frezell worried that it would be demolished.
"There isn't a lot of them around. This is the only one in the Lansing area that's surviving," he said.
Likely built in the 1800s, it's weathered and rotting in places. People apparently seeking shelter took refuge in the downstairs before the city boarded up the door. Old blankets are on the floor. One of its nine windows is broken. A staircase is missing.
Frezell, whose day job is as a spokesman for the Michigan Department of Transportation, said the tower was once used by railroad workers to control the junction between the Michigan Central and Pere Marquette railroads and to operate the Michigan Avenue crossing gates to stop traffic, prior to automation.
Plans are to move the 234-square-foot building in the spring eight miles to the club's property in Delta Township near Woldumar Nature Center. The club has a large model railroad layout located inside the old Millett Depot that was relocated there in the 1960s.
Appropriately, the tower will be used as "a living history artifact" for a dispatcher to control the model trains, the club said in a release. That job is now being done on the second floor of the depot.
First, though, the club has to raise an estimated $35,000 to transport the tower, clean up the old site, replace the missing stairway to the second story, and to repair and restore the little building. A GoFundMe site has been established.
Plans are for most of the work to be done by volunteers but a professional mover will have to be hired to lift the tower from its concrete pad and haul the 19-foot-high tower, possibly with it lying on its side.
Frezell said the group is up for the challenge of saving the tower. He has been a member of the model train club for 20 years.
"I think my parents gave me a train set when I was 5," he said. "I'm 44. I never got over it."
Source: http://www.lansingstatejournal.com/story/opinion/columnists/judy-putnam/2015/11/05/putnam-train-tower/75220146/