MRC | VIRTUAL Midwest Rail Conference 2020
Tuesday, August 11, 9 AM – 1 PM  EDT
Wednesday, August 12, 9 AM – 1 PM EDT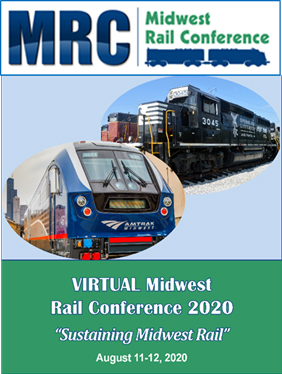 Make your plans now to attend this "virtual" conference. The scope of the annual Michigan Rail Conference has broadened this year to include our neighboring states in a program touching on  a wide variety of topics in both freight and passenger rail. Each of the half-day sessions will conclude with a keynote speaker. Joe McHugh, Amtrak Vice-President for State-Supported Services Business Development, will speak on Tuesday. Mike McClellan, Vice-President Strategic Planning at Norfolk Southern will conclude the conference on Wednesday.
Rail Passengers Association CEO and President, Jim Mathews, will be part of the opening day plenary session discussing challenges facing the rail industry in the time of COVID-19. On a panel addressing improvements in the passenger experience, MARP member Joshua Hamilton will talk about the volunteer station host program he helped establish at the East Lansing station.
Opportunities for growth in passenger rail will be addressed by Arun Rao, WisDOT, and Scott Rogers, Chair of the West Central Wisconsin Rail Coalition, a group working to restore passenger train service between Eau Claire WS and St. Paul. Michael Noland, President of the South Shore Line/NICTD, will speak about the Westlake Project which will extend service to four  communities south of Hammond IN.
Complete information and the draft program are available at rail.mtu.edu/MRC2020/agenda. You may REGISTER HERE  at the rock bottom rate of $25. But, hurry! Registration is limited and will go up on August 1.