11 West Baltimore Avenue
Detroit, MI 48202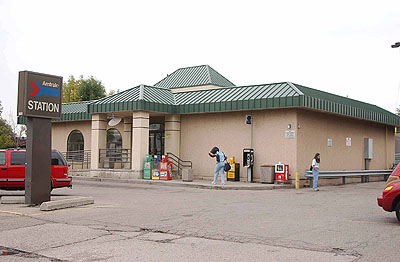 (Photos by J.R. Valderas)
The staffed Detroit station is located in the New Center area of the city, on Woodward Avenue at the corner of Baltimore Street. This is two blocks south of Grand Boulevard and three blocks north of I-94. The current Amtrak station building was constructed in the mid-1990s and is in very good shape considering the heavy passenger traffic. The staff keeps the waiting room clean, and MARP volunteers maintain the exterior landscaping. There are no vending machines, but a White Castle is located directly across Woodward.
Parking at the station is available and is quite safe. Nearby metered street parking is not enforced on weekends, but is vigorously enforced on weekdays. A taxicab stand on Baltimore has cabs on hand when trains arrive.
This station is also a stop on the Amtrak Thruway motorcoach to Toledo Ohio, which provides a guaranteed connection to the Lake Shore Limited and the Capitol Limited.  Contact Amtrak or a station ticket agent for details about this connection.
Woodward Avenue has very frequent bus service provided 24 hours a day. Both suburban SMART and city of Detroit DOT have bus lines on Woodward Avenue. DDOT coaches only operate in the city of Detroit and have yellow and green stripes. SMART coaches can pick you up or drop you off in the city (but not both), and have orange and red stripes. Fares for both systems are $1.50, and a transfer is $.25; transfers are valid on both bus lines' routes. Exact change required. Contact SMART at (866) 962-5515 or DDOT at (888) 336-8287 for scheduling and route information.
Within walking distance there are plenty of interesting shops, the St. Regis Hotel and the Fisher Theatre. A short bus ride south on Woodward will take you to Detroit's Cultural Center, a hub of interesting attractions. The main branch of the Detroit Public Library is here, including its outstanding collection of literature, and the famous Burton Historical Collection, home of rare maps, old photographs, Great Lakes regional history resources, and one of the largest genealogical collections in the country. Across from the Library is the Detroit Institute of Arts, which recently completed an impressive renovation/expansion and has a world famous collection. Just down the block is the Detroit Historical Museum, showcasing the history of this tri-centennial city. Three streets away from the Art Institute is the Museum of African-American History, the nation's largest. If you continue another two miles on the bus, you'll reach the entertainment district and the core of Detroit's Downtown. Here you'll find entertainment venues such as the Fox Theatre and Detroit Opera House, and sports stadiums for the Detroit Tigers (Comerica Park) and Detroit Lions (Ford Field). The downtown area is also home to Campus Martius Park, and the recently opened Detroit Riverwalk.
Detroit has undergone a steady revitalization over the past several years, and is more of a destination that many people will admit.
Amtrak station page:
http://www.amtrak.com/servlet/ContentServer?c=am2Station&pagename=am%2Fam2Station%2FStation_Page&cid=1229726270271