200 Depot Drive
Dowagiac, MI 49047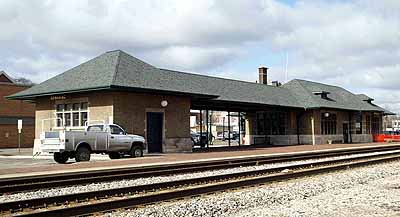 Trackside view of the Dowagiac Amtrak Station. (Photos by J.R. Valderas)
The unstaffed Dowagiac station is a beautifully restored 1903-built Tudor Revival building dating from the Michigan Central Railroad.  Today, the Amtrak waiting room shares the interior with the local Dial-a-Ride dispatching office and the city Chamber of Commerce & town giftshop.  Both the grounds and interior are nicely maintained by the city.  An expansive parking lot sits just to the east of the station for passengers' use; leaving vehicles here for extended periods is no worry in this small town.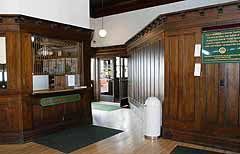 Dowagiac is an example of what a determined small community can accomplish with good leadership and a proactive vision.  Faced with a closed train station and a downtown that would be vulnerable to an outlying shopping mall, the city government decided to pre-empt any attempt to draw people away from their commercial district.  They determined that one of the greatest assets of their town was the existing architecture and attractiveness of the downtown shopping district.  A series of grants allowed the town to enhance the downtown area with an attractive streetscape, and restore and improve commercial building facades.  The result is one of the most attractive small towns in the Midwest. 
Included in the town improvements was a complete restoration of the attractive train station, completed in 1995.   The exterior, including the small tower, was carefully restored.  Inside, an original floor mosaic spelling out "MCRR" is in mint condition, and waiting room woodwork has been refinished.  The train platform was also replaced at this time.  Local transportation service is provided by Dowagiac Dial-a-Ride.  Hours and days of operation are limited, so be sure to call ahead (269) 782-3300.  The waiting room is open for passengers during the week, but may be closed on weekends.  The station is located on Depot Drive just one block from the downtown area. 
MARP commends the City of Dowagiac for its vision and hard work.
Amtrak station page:
http://www.amtrak.com/servlet/ContentServer?c=am2Station&pagename=am%2Fam2Station%2FStation_Page&cid=1229726269987