225 North Whittaker St.
New Buffalo, MI 49117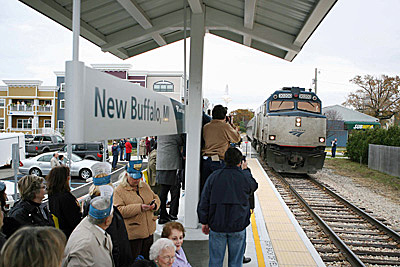 Located in the heart of downtown New Buffalo at 225 N. Whitaker St., the new station opened Oct. 26, 2009 to serve Wolverine Trains 354 and 355, which serves 15 cities from Chicago to Pontiac, Mich.; and Blue Water Trains 364 and 365, which operate to 11 cities from Chicago to Port Huron, Mich. As of Oct. 26, Amtrak's Pere Marquette no longer stops in New Buffalo. The new station stop provides complimentary parking for up to 25 Amtrak passengers at a parking lot located just west of the station on Oselka Dr., parallel to the railroad tracks.
Public transportation is provided by Berrien Bus. Hours of service are limited, so check first.
Amtrak station page:
http://www.amtrak.com/servlet/ContentServer?c=am2Station&pagename=am%2Fam2Station%2FStation_Page&cid=1246042119912