171 Lincoln Avenue
Holland, MI 49423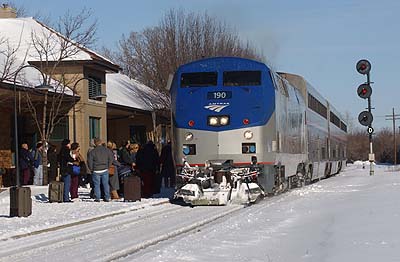 Passengers gather their belongings as Amtrak's Pere Marquette arrives to the Padnos Transportation Center in Holland, Mich. on Jan. 23, 2005. (Photo by J.R. Valderas)
The unstaffed Holland station was extensively remodeled in the 1980's, and turned a rather spartan station building into an exceptionally attractive facility. Located right at the entrance of Windmill Island Gardens, the station has 34 free parking spaces. The area is quite safe, and cars can be left for extended periods. The station serves Amtrak, Indian Trails intercity coach service and Macatawa Area Express (MAX) buses; the waiting room hours are from 7:00 AM to 10:00 PM Seven days a week.
The interior is attractive and comfortable, and a Quik-Trak Self-Service Ticketing Kiosk has been installed by Amtrak. The exterior has outstanding landscaping, and in good weather, the exterior walkways are so pleasant that many passengers prefer to wait outside. There are vending machines inside the station.
Macatawa Area Express (MAX) service is available for the morning train, but only Monday through Saturday. Call (616) 355-1010 for details.
Much of western Michigan's Lower Peninsula was settled by the Dutch, and Dutch names are by far still the most prevalent in this area. Holland is the heart of Michigan's Dutch country, and retains a distinctive Dutch flavor that goes well beyond the souvenir shops. Downtown Holland is a short walk from the station, and is sparkling clean, friendly and delightful. Be sure to visit Holland during its Tulip Time Festival, an annual event in May which draws visitors from all across the nation.
Amtrak station page:
http://www.amtrak.com/servlet/ContentServer?c=am2Station&pagename=am%2Fam2Station%2FStation_Page&cid=1229726270788