431 Wealthy Street SW
near Market and Wealthy Streets SW
Grand Rapids, MI 49503
>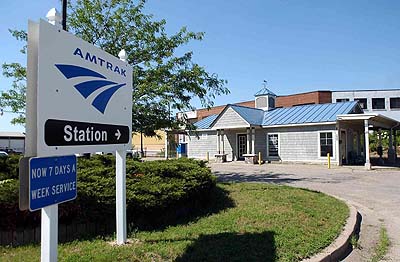 Grand Rapids Station (Photo by J.R. Valderas)
The unstaffed Grand Rapids station is at the corner of Market and Wealthy Streets. Although rather small, the station is in good shape and received a needed facelift just a few years ago. A lot of 45 free parking spaces are directly adjacent to the station. If needed, an overflow "long term" lot is located across the intersection of Market and Wealthy. The station lot regularly fills up on weekends, so be prepared to walk from the overflow lot during busy travel times. The area is safe, and you can leave your car here for an extended period without worry.
 A caretaker keeps the waiting room in excellent shape. Inside is a rack full of Amtrak schedules and travel information for passengers to peruse. The walls have several unique photos of trains in Grand Rapids during the first half of the 20th Century, and are worth a look. The waiting room does not have vending machines, and is only open for the morning and evening Pere Marquette's. In a small adjoining room a Quik-Trak Self-Service Ticketing Kiosk has been installed by Amtrak; this room is accessible from the outside and is open throughout the day. Grand Rapids is one of the few stations in Michigan that have a platform canopy, to protect passengers from the wide variety of Michigan weather conditions encountered here.
Local public transit is provided by The Rapid, Grand Rapids' bus line. For schedule information, call (616) 456-7514. Local taxi phone numbers are posted in the station. The station is separated from the downtown area by several blocks, but a short cab ride will get you to the center of downtown. Downtown Grand Rapids has developed a pretty good nightlife in recent years, and the area is currently seeing some significant growth. It is home to such cultural attractions as the Public Museum of Grand Rapids, the Grand Rapids Art Museum, and the Gerald R. Ford Presidential Museum.

A large crowd of spring break travelers prepare to board the Pere Marquette at the Grand Rapids Station on April 1, 2006. (Photo by Jim Hulsebus)
Amtrak station page:
http://www.amtrak.com/servlet/ContentServer?c=am2Station&pagename=am%2Fam2Station%2FStation_Page&cid=1229726268432