1240 South Harrison Road
East Lansing, MI 48823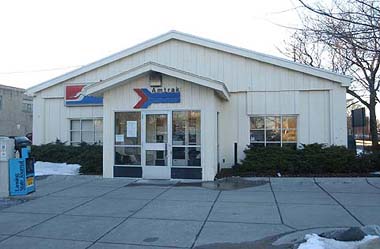 (Photo by J.R. Valderas)
The staffed East Lansing station is the hub for intercity land travel into and out of the state capital region.  Access is easy – simply take the Trowbridge Road exit from I-496/US-127, follow Trowbridge to Harrison Road (the first major intersection), turn south and cross the first set of railroad tracks, and the station is immediately on the right.  This location makes it convenient to people from around the greater Lansing area, and also to students at Michigan State University, as the station is located at the southwest corner of campus.  Parking includes 20 spaces in front of the station; if these are full, an additional 45 spaces are available to the side of and behind the station building.  Some spaces are marked with signs indicating an Amtrak permit is required, so be sure to check with the station agent if you park here to see if a permit is necessary or not. 
This station is also a stop on the Amtrak Thruway motorcoach to Toledo Ohio, which provides a guaranteed connection to the Lake Shore Limited and the Capitol Limited.  Contact Amtrak or a station ticket agent for details about this connection.
Vending machines are available in the waiting room, and there are also several convenience stores and restaurants within a short walk.  Local city bus service is provided by the Capital Area Transportation Authority, and the station is currently a stop on CATA  routes 20, 30, and 38.  Not all routes run at all times, so be sure to check ahead.  Taxi phone numbers are also posted in the station. 
East Lansing is home to Michigan State University, the largest in Michigan.  Adjacent Lansing is Michigan's state capital, and the beautifully restored 1878 Capitol building is well worth a visit.  Also worth a visit is the Library of Michigan, and the Michigan History Museum, an excellent museum full of state history.  For decades, Lansing was home to the REO Motor Car Company, and the Oldsmobile Division of General Motors, and the R. E. Olds Museum pays tribute to these important components of the local past.  The Greater Lansing Visitors Bureau offers a look at many additional cultural and local attractions of the area. 
Amtrak station page:
http://www.amtrak.com/servlet/ContentServer?c=am2Station&pagename=am%2Fam2Station%2FStation_Page&cid=1229726270282