104 Capital Avenue S.W.
Battle Creek, MI 49017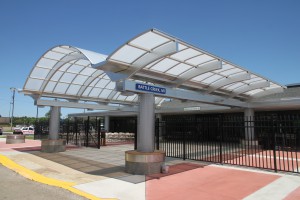 The Battle Creek station underwent a renovation in 2011-2012. (Photo by Steve Sobel)
The Battle Creek station is an intermodal center owned by the Battle Creek Transportation Authority. It has fairly good access by car, and all city buses come to the station. For short term parking, it is recommended that passengers use the ice skating rink parking lot immediately west of the station. Long term parking permits are available from the agent which allows passengers to park their cars in the station drive. The area is quite safe, and cars can be left in the long term parking area for extended periods without worry.
The downtown area of Battle Creek has undergone a substantial redevelopment in recent years, and the station is surrounded by a 4-star hotel, a water park , a convention arena and the downtown shopping district. The exterior of the station retains the lines of a traditional station, but there's nothing traditional about it at night. Station eaves, roof lines and columns are lit by neon and fluorescent lights, and the result is spectacular.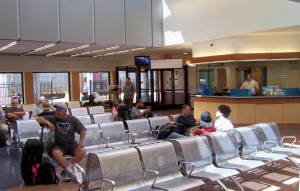 Being an intermodal station with substantial traffic and isused by Amtrak, Indian Trails, Greyhound and Battle Creek Transit . The station was built 30 years ago in what was then a popular design which some call "Urban Gothic," with concrete, steel deck plate and black leather décor. A $3.8 million renovation was completed in June 2012 that changed some of that. The enlarged facility is a light tan, with new, expanded seating and a much more open and inviting interior. One notable change is that the bus ticket counter has been moved down a hallway to the west, and is now more conveniently located to the intercity bus boarding dock.  The Amtrak agent occupies one half, the bus agent the other half. Vending machines are available in an alcove. There are plenty of restaurants ranging from fast food to Four Star within a short walk.
The city used another stimulus award to relocate the bus transfer center from next to the train station to across McCamly Street at a cost of $230,262. Battle Creek Transit buses now use a loop west of the station with shelters for the east route.
Amtrak station page:
http://www.amtrak.com/servlet/ContentServer?c=am2Station&pagename=am%2Fam2Station%2FStation_Page&cid=1229726269433