Edited from the Northwest Indiana Times: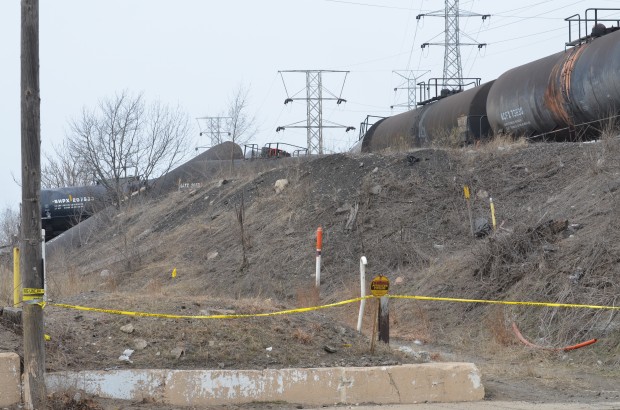 South Shore and Michigan Amtrak train service resumed Saturday morning following a halt in operations overnight March 29, 2013 because of a freight train derailment in Gary.
About 35 cars in a 104-car Canadian National train derailed about 2:30 a.m. near Broadway north of the South Shore tracks, CN spokesman Patrick Waldron said.
While some of the derailed cars were carrying hazardous materials, none was leaking and no one was injured, Waldron said.
"The train was westbound and heading into our CN's Kirk Yard, which is near U.S. Steel in Gary," Waldron said.
The derailment severed a gas line, and NIPSCO turned off gas lines to the area while teams investigated, he said.
South Shore Line service resumed with the departure of westbound Train 504 arriving in Chicago at 10:16 a.m. The eastbound Train 603 departed Millennium Station in Chicago at 10:45 a.m. with its final stop in South Bend.
Hazardous materials officials suspended South Shore train service because of the derailment, said John Parsons, spokesman for the Northern Indiana Commuter Transportation District. Hazmat officials directed service be suspended until it was determined it was safe to resume.
An investigation about the cause of the derailment is still under way.
Source: http://www.nwitimes.com/news/local/lake/gary/freight-train-derailment-in-gary-causes-short-halt-of-south/article_c589c044-6a98-55ff-b6d5-116222a502dc.html