From AnnArbor.com: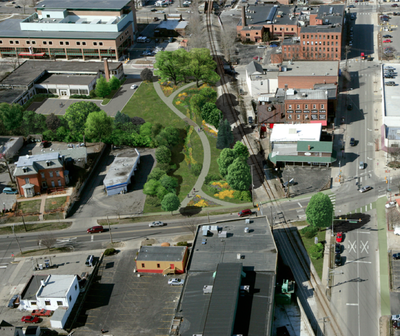 Local officials working on the WALLY commuter rail project say city-owned property at 415 W. Washington St. is a potential site for a future downtown Ann Arbor train station.
"The 415 site is a candidate, but is not the only possibility," said Michael Benham, the Ann Arbor Transportation Authority's strategic planner.
Benham said work has just begun on the first phase of the WALLY Station Location and Design Project, which includes a search for a downtown station location.
"This effort will evaluate sites all along the tracks that go through downtown from roughly Summit Street to Hill Street," he said.
Asked what other potential sites have been identified, Benham responded: "Any area along the tracks where a station might fit is a candidate at this point."
Ann Arbor officials announced this week they're leaning toward demolishing the dilapidated building that stands at 415 W. Washington on the west edge of downtown, across from the YMCA.
The city still has plans for a greenway park with trails running through the site, but the enthusiasm behind the idea of turning the building into a community arts center seems to be shifting over to another city-owned property at 721 N. Main St., where multiple unused buildings stand. That opens up new possibilities for 415 W. Washington.
A commuter rail station at 415 W. Washington is unlikely to happen until years into the future even if the site is chosen and funding becomes available. In theory, it would service the north-south commuter rail line known as WALLY (Washtenaw and Livingston Line), which is in the planning stages now and would link Ann Arbor and Howell with stops in between.
The plans for a downtown commuter rail station along the north-south Ann Arbor Railroad tracks are entirely separate from the new Amtrak passenger train station some city officials want to see built on Fuller Road along the east-west Norfolk Southern tracks between Detroit and Chicago.
Eli Cooper, the city's transportation program manager, said a downtown Ann Arbor commuter rail station wouldn't have to take up much space.
"It could simply be a platform with shelters attached to the platform or a small waiting facility, much of which could actually be accommodated in the railroad right-of-way," he said. "And although it may be in proximity to the 415 W. Washington site, it may not occupy the footprint of that site at all."
He said the nature of a commuter rail station is entirely different from the kind of full-service Amtrak station with large parking facilities that the city is talking about on Fuller Road.
He said there wouldn't need to be a large parking component at a downtown Ann Arbor commuter rail station, because the idea for WALLY is it would be a single-directional service — bringing people into Ann Arbor in the morning, and back to points north at the end of the work day.
Asked whether a train station at 415 W. Washington would conflict with the city's vision for a greenway park there, Benham said he doesn't think so.
"Again, the station location study is intended to answer this question definitively, but my casual look at the site suggests that the two projects could work very well together," he said.
Benham said it's critical that station planning takes place in cooperation with other efforts aimed at improving the downtown area.
"Our objective would be to support other plans for downtown as much as possible," he said. "The rail project is likely to need a fairly narrow band of the corridor, at any location."
Past planning efforts for WALLY have looked at station locations and designs at a fairly high or conceptual level, Benham said, but the upcoming work is intended to identify more precise locations of stations, because there are multiple possibilities in most communities.
The work will include developing station designs that take into account specific local conditions such as topography, utility locations, and pedestrian, automobile and bicycle links.
Benham said the work will support an analysis of environmental impacts, as required by the National and Environmental Policy Act, and will help make cost estimates more detailed and precise.
The work is funded largely by a Federal Highway Administration grant, with some local contributions from Howell, the Ann Arbor Downtown Development Authority and Washtenaw County.
Read more: http://www.annarbor.com/news/415-w-washington-could-be-site-of-future-downtown-ann-arbor-train-station/