Design, build contract to be given May 24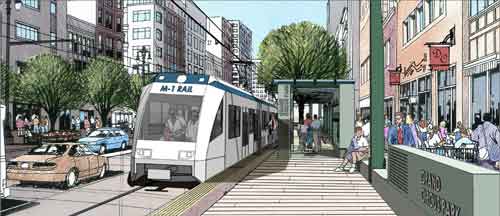 From Crain's Detroit Business:
Organizers of the M1 Rail streetcar system plan to award the primary contract to design and build the $137 million transit line in less than two weeks.
Bids to become the construction manager and general contractor for the Detroit project on Woodward Avenue are due Friday and will be vetted by a panel of M1 staffers and the Michigan Department of Transportation, said M1 COO Paul Childs.
The bid is scheduled to be awarded May 24, with price negotiation to begin the following day. The goal is for work to commence by July or August.
"It's an aggressive timeline, we know that," Childs said.
The contract will be for the $85 million construction of the 3.3-mile grade-level streetcar loop between Hart Plaza and New Center.
Of that, $65.5 million is M1 funding, and the remainder is state funding to do Woodward resurfacing concurrently with the streetcar project, Childs said. The MDOT work will be between Sibley and Chandler streets.
The bid will cover all major construction, such as the tracks, power control and passenger stations, Childs said.
Construction also will include replacement of the Woodward Avenue bridge over I-94.
A second bid will be sought later this year for the $9.5 million construction of a vehicle storage and maintenance facility.
A third bid, estimated to be worth $27 million, is for six streetcars.
M1 intends to seek its cars as part of a transit vehicle order already underway with another public transportation agency, Childs said.
Because transit vehicles are expensive and take a long time to build to order — orders can be for hundreds of cars, and there is a limited number of streetcar makers — attaching its vehicle needs to another system's order is a common practice in the transit industry because it can reduce turnaround time and cost.
"Our strategy is a piggyback strategy. We're a small player in a gigantic ocean," Childs said.
M1 has looked at rail orders from Cincinnati; Salt Lake City; Seattle; Portland, Ore.; and Tucson, Ariz.
While Childs couldn't discuss specifics, M1 previously has said it's looked closely at Cincinnati's $20 million procurement of five streetcars for its $110 million plan to install a 3.8-mile downtown line.
Cincinnati last year selected Elmira, N.Y.-based CAF USA, a subsidiary of Spain's Construcciones y Auxiliar de Ferrocarriles S.A., as its preferred vendor to manufacture the five streetcars, with an option for up to 25 more cars.
Delivery for that system is expected to take 18 months.
The final bid, which Childs said won't be let until late this year or early in 2014, is for a private-sector vendor to operate and maintain the streetcar system. M1 has estimated that the system will cost $5 million initially to operate and maintain annually.
"There's a fair number of transit operators out there," he said.
Childs said one example of a private operator is Lombard, Ill.-based Veolia Transportation Inc., which contractually operates transit systems in several U.S. cities.
Veolia is the North American arm of Paris-based Veolia Transdev, which manages transportation systems in 28 countries and had revenue of $9.8 billion last year.
For example, Veolia has a 10-year, $560 million contract with the New Orleans Regional Transit Authority to manage the city's three streetcar lines, 32 bus routes and paratransit service — which see a combined 12 million riders annually.
Under its New Orleans deal, all of the authority's employees work for Veolia, and the company is responsible for all operations, safety, maintenance, customer care, routes, schedules, capital planning and grant administration.
M1, a privately run nonprofit with public and private financing, is expected to employ a similar arrangement. It eventually intends to turn over ownership of the system to the new regional transit authority.
Childs said M1 also is negotiating consulting contracts now with San Francisco-based URS Corp. to do design work and with Kansas City-based HNTB Corp. to act as owner's representative on the project, Childs said.
M1 previously hired Detroit-based Lovio George Communications and Design Inc. as its outside public and media relations agency and is negotiating contracts with a pair of land appraisers, Childs said.
The rail project also has hired several executives in recent months as it has transitioned from a proposal to a system with federal approval and funding to proceed.
The general contractor/construction manager RFP was issued April 17 and follows state and federal bid rules.
"As soon as they put a nickel in your pocket, you're a federal project," Childs said. The Federal Transit Administration is providing $25 million in funding, and final federal approval to proceed with construction came April 22.
M1's goal is to be operating by the fourth quarter of 2015.
Construction from Adams Street south to Congress Street is scheduled for June through August 2015, and north of Adams from April 2014 to August 2015, according to M1's bid documents.
Work on the maintenance facility and system testing will happen in fall of 2015.
M1's plan is a mostly curbside-running, fixed-rail streetcar circulator system, co-mingled with traffic, with 11 stops between Grand Boulevard and Congress Street. It will run in the median at its north and south ends.
M1 light rail facts:
The $137 million, 3.3-mile grade-level loop on Woodward Avenue will stretch between Larned Street downtown to Chandler Street north of Grand Boulevard in New Center.

• The aim is to fuel economic development along the line, reduce downtown traffic, improve pedestrian movement during events, and eventually connect to a yet-to-be-proposed line running to the city limits and deeper into the Detroit suburbs.

• The line will co-mingle with vehicle traffic using the lane second from the curb, but run in the center lane at either end.

• The goal is for public use by the fourth quarter of 2015.

• Estimated ridership is 3 million people annually.

• M1 has said it will endow a $10 million fund to operate and maintain the system for up to 10 years, until 2025, at which point the group plans to donate the project assets and operating responsibility to the regional transit authority.

• M1 Rail is led by Penske Corp. founder Roger Penske and Quicken Loans Inc. founder Dan Gilbert, the project's co-chairmen.

• M1's CEO since the project's 2007 launch has been Matt Cullen, one of Gilbert's chief lieutenants for his myriad business interests. COO Paul Childs has been on staff for several years. Recent new-hire executives are Chief Administrative Officer Heather Carmona, CFO Jeni Norman and Sommer Woods as director of governmental and community affairs.

• Major funding commitments of $3 million have come from Wayne State University, Quicken Loans, the Ilitch companies, Penske Corp., Compuware Corp., Chevrolet, Chrysler Group, Blue Cross Blue Shield of Michigan, the Detroit Medical Center, Henry Ford Health System, Wayne County government, the Ford Foundation and the W.K. Kellogg Foundation. The Hudson Webber Foundation has pledged $1 million. The Kresge Foundation has pledged $35.1 million, part of which already has been spent, and it gave an additional $3 million as a "backstop" grant.

• The Detroit Downtown Development Authority has earmarked $9 million for M1. Another $16 million is from federal New Market Tax Credits, which have to be sought annually. Plans also include a $22 million commercial loan.

• Project and bid details are online at m-1rail.com.
Source: http://www.crainsdetroit.com/article/20130512/NEWS/305129975/m1-rail-bids-ready-to-leave-the-station