From an Indian Trails press release: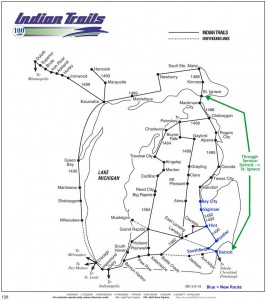 Indian Trails, which operates 33 scheduled motorcoach routes throughout Michigan and into Chicago and Milwaukee, has added a new Bay City- Flint-Detroit route, significantly increasing transportation options for communities between those cities—as well as those along the Lake Huron shoreline between Bay City and St. Ignace.
The new route began on June 1. It will be operated exclusively by Indian Trails once Greyhound discontinues service on June 18. The new Indian Trails service will make twice-daily stops in Bay City, Saginaw, Flint, Pontiac, Southfield and Detroit.
In the past, motorcoach passengers traveling this route often faced significant wait times for connections to continue their travel by train or another bus service. With this new route and schedule, wait times have been reduced to 30 minutes on average.
"This new route will make it far easier for passengers to travel by bus within Michigan, as well as connect with other travel options, such as Amtrak or Greyhound, for destinations nationwide," said Indian Trails President Gordon Mackay. "By reducing the wait times for connections, we've opened up a lot of options for our passengers."
The new route connects with Amtrak in Pontiac and Greyhound in Detroit. Additionally, Indian Trails has responded to passenger requests to make travel to and from vacation destinations in Northern Michigan much easier by offering through-service between Detroit and St. Ignace. Riders can travel between the two cities without needing to change buses, making travel much faster and easier just in time for the summer travel season.
Passengers can begin or end their travel at any of the stops along the route, which include Detroit, Southfield, Pontiac, Flint, Saginaw, Bay City, Pinconning, Standish, Omer, Au Gres, Tawas City, Oscoda, Harrisville, Ossineke, Alpena, Rogers City, Cheboygan, Mackinaw City and St. Ignace. The St. Ignace route connects with service to Sault Ste. Marie and all of the Upper Peninsula.
Fares vary by starting point and destination, and reduced advance purchase fares are also available. Example one-way fares for one adult are:
Detroit – Southfield $8

Detroit – Pontiac $12

Detroit – Flint $18

Detroit– Saginaw $24

Detroit – Bay City $27

Southfield – Omer $31

Southfield – Tawas City $36

Southfield – Harrisville $42

Southfield – Ossieneke $46

Pontiac – Alpena $46

Pontiac – Cheboygan $60

Detroit – St. Ignace $68
Tickets can be purchased at any of the on-site ticketing offices. Online ticketing is scheduled to launch later this summer.