Indian Trails adds Flint-Detroit-Bay City route
From M-Live: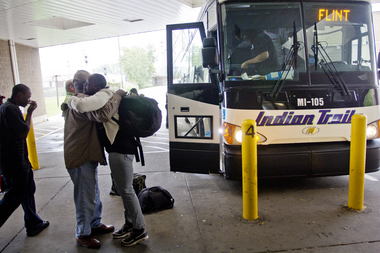 Indian Trails, a 100-year-old motor coach company, recently announced the addition of a new Bay City- Flint-Detroit route to its schedule following the news that Greyhound will discontinue its Flint and Detroit bus routes in late June.
The Owosso-based bus company – which operates dozens of routes throughout Michigan and into Chicago and Milwaukee – said that it was already planning to announce the new routes before getting a call from Greyhound informing them that it would no longer run buses through those cities Flint and Detroit.
"When we decided to add those lines, it was for us to increase services for our customers going in and out of Detroit. Greyhound, at the time, was operating a couple routes through Flint, but our departure times wouldn't have competed with theirs," said Chad Cushman, vice president of Indian Trails.
According to Cushman, Greyhound will no longer run its Flint and Detroit routes as of June 19, 2013.
A spokesperson for Greyhound did not immediately return calls.
Cushman added that the route will improve Indian Trails' northbound and southbound connections, allowing for easier travel throughout the state.
"This new route will make it far easier for passengers to travel by bus within Michigan, as well as connect with other travel options, such as Amtrak or Greyhound, for destinations nationwide," said Indian Trails President Gordon Mackay.
"By reducing the wait times for connections, we've opened up a lot of options for our passengers."
Passengers can begin or end their travel at any of the stops along the route, which include Detroit, Southfield, Pontiac, Flint, Saginaw, Bay City, Pinconning, Standish, Omer, Au Gres, Tawas City, Oscoda, Harrisville, Ossineke, Alpena, Rogers City, Cheboygan, Mackinaw City and St. Ignace. The St. Ignace route connects with service to Sault Ste. Marie and all of the Upper Peninsula.
The new Flint route, which started on June 1, offers two buses northbound and two buses southbound daily. The northbound buses depart at 8:40 a.m. and 4 p.m., while the southbound buses depart at 10:25 a.m. and 4:25 p.m. daily.
Detroit currently offers one bus northbound and one southbound, while Bay City offers two southbound departures and one northbound departure.
Tickets can be purchased onsite, and an option for Internet purchases is expected to be added at a later time.
Flint to Detroit fees are $18.
Source: http://www.mlive.com/business/mid-michigan/index.ssf/2013/06/indian_trails_bus_company_adds.html