From Progressive Railroad: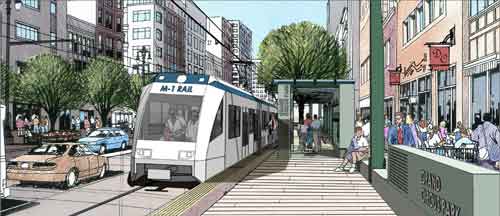 M-1 Rail,  the nonprofit organization overseeing the 3.3-mile Woodward Avenue streetcar project in Detroit, announced today it has selected Stacy and Witbeck Inc. to be the line's construction manager and general contractor.
M-1 Rail also announced that a ground-breaking is slated for early fall between Larned Street and Adams Street in downtown Detroit.
"Stacy and Witbeck is an established leader in the construction of streetcar systems in urban cores, said M-1 Chief Operating Officer Paul Childs in a press release. "The company is uniquely qualified to manage all of the moving parts associated with a project of this scale."
Stacy and Witbeck built streetcar systems in Portland, Ore., and San Francisco. The firm also has three other streetcar lines under construction: the First Hill Streetcar in Seattle, the Sugar House Streetcar in Salt Lake City and the Union Station-to-Oak Cliff Streetcar in Dallas.
The firm's pre-construction work in Detroit will include assisting the development of the traffic maintenance strategy; reviewing design plans; working with M-1 Rail designer URS Corp. and HNTB Michigan Inc. to identify cost efficiencies and value engineering measures to ensure final construction costs remain on budget; ordering materials; and hiring subcontractors and local workforce personnel.
Detroit-based White Construction will serve as a "key local contractor" for the project, M-1 Rail officials said.
The project is projected to cost between $135 million and $145 million, including $35 million to $45 million for the state- and federally funded Woodward Avenue reconstruction projects that will be completed in conjunction with the streetcar construction in Segment 2.
A Woodward Avenue corridor rail line has been in the planning stages since 2007, when a consortium of local business, philanthropic and communication officials came together to address Detroit's lack of public transit. M-1 Rail officials have said they view the streetcar project as a catalyst that will help drive the city's economic recovery.
Earlier this month, M-1 Rail President and Chief Executive Officer Matthew Cullen said the nonprofit organization "remains committed" to the streetcar line and does not anticipate the city's recent filing for Chapter 9 bankruptcy will adversely affect the project.
For more background on the Woodward Avenue streetcar project, follow this link to read a web exclusive article on Progressiverailroading.com.
Source: http://www.progressiverailroading.com/prdailynews/news.asp?id=37044