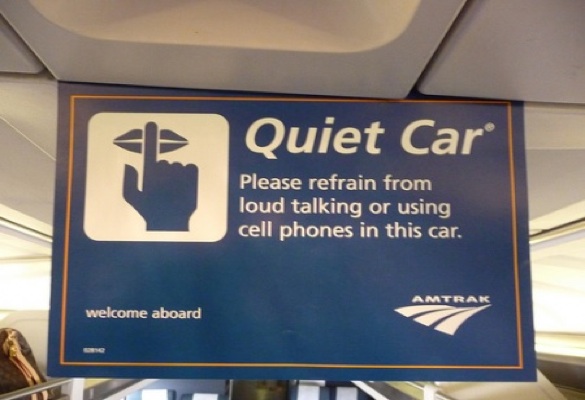 Amtrak will designate a Quiet Car® on weekday Wolverine Service trains between Chicago and Michigan starting August 19. The Michigan Department of Transportation supports this service enhancement in response to its popularity on other routes elsewhere in the Amtrak national network.
"In today's business world, being connected and able to work from an Amtrak train is an advantage. Amtrak understands this, and so we welcome cell phone and computer use on-board our trains," said Amtrak Central Division General Superintendent Tom Connolly. "But it is clear there is also a market for peace and quiet, so it is also an advantage for us to provide a railcar each weekday on Wolverine Service trains where travelers can unplug."
The Wolverines are an increasingly popular way for travelers to shun high gasoline prices, tolls and parking charges between Michigan and Chicago. The Wolverine Service trains topped 421,000 passengers during the past 10 months (Oct. 2012-July 2013), an increase of nearly six percent.
There are three round-trips on the Chicago-Ann Arbor-Detroit-Pontiac corridor every day. Seats in the Quiet Cars do not require a special reservation – they are available on a first-come, first-served basis. For the time being, Quiet Car service will not be provided on weekends.
"Many of our passengers are telling us they use their train trip to unwind, read or catch up on their sleep," said Connolly. "They can't do that as well when the rest of the car is buzzing and ringing with calls home and to the office."
While riding in the Quiet Cars, passengers are asked to refrain from using cell phones, noisy computer programs or engaging in loud conversation. The Quiet Car on Wolverine trains will be at the opposite end of the train from the Café car, which will also reduce sound volumes.
Amtrak will place signs on the Quiet Cars and will put notices on the trains and at stations to help inform passengers. More information about Quiet Cars is under the "Plan" tab on Amtrak.com.
The only other corridor in the Amtrak Chicago Hub with Quiet Car service is the Hiawatha Service between Chicago and Milwaukee. Hiawatha ridership records have been routinely set, with more than 838,000 passengers last year: a 60 percent increase since Quiet Cars were introduced on the route in 2005.