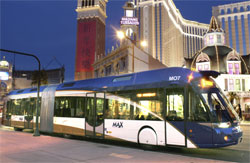 SEMCOG, the Southeast Michigan Council of Governments, announces a series of community meetings to provide information and answer questions about Bus Rapid Transit (BRT) and its possible future as the next generation mode of choice for cruising Woodward Avenue. Six meetings will be held in several Woodward Avenue communities during the first two weeks in December.
Tuesday, December 3, 6-8 p.m.
Beaumont Hospital Administration Building, 3711 W. 13 Mile Road, Royal Oak, MI 48073
(Free parking in South Deck Parking, enter from Coolidge Highway.)
Thursday, December 5, 5:30-7:30 p.m.
Berkley Community Center, 2400 Robina Avenue, Berkley, MI, 48070
Saturday, December 7, 11 a.m.-1 p.m.
St. Joseph's Hospital, Anthony M. Franco Communications Center Auditorium, 44555 Woodward Avenue, Pontiac, MI, 48341
Monday, December 9, 6-8 p.m.
Michigan State University Event Center, 3408 Woodward Avenue, Detroit, MI 48201
Tuesday, December 10, 6-8 p.m.
NextEnergy, 461 Burroughs Street, Detroit, MI 48202
Wednesday, December 11, 6-8 p.m.
Coolidge Intermediate School, 2521 Bermuda Street, Ferndale, MI 48220
"We have had three sets of community meetings about this project, the first in December 2012, the second in April and May of this year," said Carmine Palombo, SEMCOG's Director for Transportation Programs. "A lot of work has been done since then and we now have answers to many of the questions that the public asked at earlier meetings. For example, we now have projected ridership data and travel times and a variety of alignment options. We don't want anyone to miss the opportunity to participate in this important conversation."
Here are some of the important questions that will be answered. What roads will Bus Rapid Transit (BRT) travel on? How does it function? How long will it take to travel between downtown Detroit and Pontiac? How will BRT operate with existing DDOT and SMART service and future M1Rail? How many riders are projected to use BRT? What are the next steps for moving BRT forward as a Locally Preferred Alternative for premium transit on Woodward?
Each meeting will include displays, a presentation, opportunities for one-on-one discussion with the project team, and group discussion following the presentation. Area residents; current and potential transit riders; the nonmotorized (walking and biking) community; business owners; and community, agency, and government leaders are all encouraged to participate in any, or all, of the meetings.
SEMCOG is managing the $2 million federal transportation grant that is funding the Woodward Avenue AA. Building upon previous planning efforts, such as those for the Woodward Avenue Light Rail Project, and the Regional Transit Coordinating Council Regional Plan, the study will create a set of alternatives to be reviewed and screened with the goal of selecting the most feasible rapid transit alternative. This transit alternative, also known as the "Locally Preferred Alternative," will move forward for detailed analysis and a draft environmental review. The alternatives will be evaluated using a set of criteria that closely reflects the study's purpose and need. The alternatives analysis phase will be completed in early 2014.
For more information about the community meetings or the Woodward Avenue Alternatives Analysis, visit the project Web site at http://www.woodwardanalysis.com/. All meetings locations are handicapped accessible.