From Trains News Wire: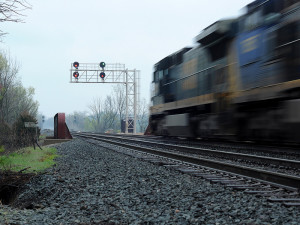 CSX  Transportation has filed with the Federal Railroad Administration to deactivate  the signals on its Saginaw Subdivision in eastern Michigan. The former Pere  Marquette line runs between Mount Morris, just north of Flint, and Plymouth, a  distance of about 55 miles.
The railroad seeks to remove 67  dispatcher-controlled signals, 20 automatic signals. In addition, 28  power-operated track switches will be converted to hand throw operation. It will  install new approach signals at MP CC-27.9, CC-32.9, CC-35.0, CC-49.1, CC-51.5,  and CC-74.9.
Two locations will remain dispatcher-controlled, with  signals remaining in operation. Those locations are at CP South Kearsley, MP  CC-33.54, and at CP Holly, CC-50.42. Both locations are at-grade crossings with  Canadian National rail lines.
In its filing, CSX states that the signal  system "is no longer needed for present-day operations." If the signal  discontinuance is approved, CSX will operate the line with track warrant  control.
The line once supplied CSX with lucrative automotive and  chemical traffic from Flint and Midland. Now it is operated north of Mount  Morris by Lake States Railway. Lake State has operated that portion since  2005.
Trains News Wire is awaiting comment from CSX.
MARP.ORG editor note: The route described here is one potential route to reestablish passenger service to the Bay City/Saginaw/Flint area and it could be costly to restore the signals necessary for passenger trains once they are deactivated or removed.