From Progressive Railroading: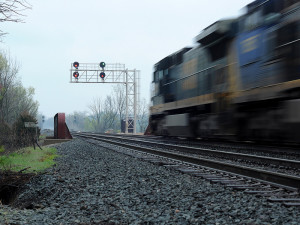 CSX Transportation has filed with the Federal Railroad       Administration to deactivate the signals on its Plymouth Subdivision in       central Michigan, its second such recent filing in the state. The former       Pere Marquette line runs between Grand Rapids and Plymouth, a distance of       about 120 miles.
The railroad seeks to remove 51       dispatcher-controlled signals and 58 automatic signals. In addition, 11       power-operated track switches will be converted to hand throw operation.       It will install new approach signals at MP 29.0, MP 53.8, MP 50.9, MP       86.5, MP 83.6, and MP 147.4.
Two locations will remain       dispatcher-controlled, with signals remaining in operation. Those       locations are at Ann Pere, MP 52.87, and at Trowbridge, MP 84.9, near       Lansing. Both locations are at-grade crossings with foreign rail       lines.
In its filing, CSX states that the signal system "is no longer needed for present-day operations." If the signal discontinuance is approved, CSX will operate the line with track warrant control. The line already has a 30-mile stretch of track warrant control between Lansing and Lake Odessa.
The line once hosted Canadian Pacific trackage rights       trains between Chicago and Detroit, in addition to CSX's own traffic. Most       CP trackage rights trains shifted to a new Norfolk Southern routing via       Elkhart, Ind., in 2005 and the last operated via CSX in  2010.