From Soo Today: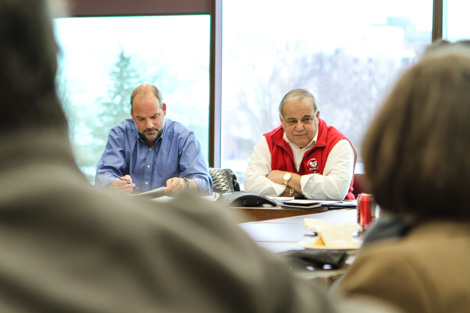 Committed cottagers, land and business owners, and municipal and tourism representatives from across the Algoma district gathered at City Hall last week for the inaugural meeting of the Algoma Central Railway Passenger Service Stakeholder Committee.
The purpose of the meeting was to form a Working Committee that will work toward an agreement with CN and the federal government which would postpone for one year the termination of passenger rail service between Sault Ste. Marie and Hearst.
On Friday, January 24, it was revealed that federal funding for passenger rail service from Sault Ste. Marie to Hearst was cut and CN would discontinue passenger service as a result.
With a number of remote locations, businesses and private cottages situated along this stretch of rail, its cancelation would have a devastating impact on the area's tourism and recreation sector.
Matt Yukich, whose family owns and operates Ontario North Fishing Adventures in Oba, told SooToday.com that 75 percent of his seasonal visitors reach this destination by train.
Although it is accessible by other means, he said it's more than eight hours to drive there from Sault Ste. Marie, the last two hours via dirt road.
He expressed frustration over the announcement as he's unable to book any visitors and he fears many of his regulars will decide to go elsewhere for their vacation.
The original termination date set for Monday, March 31, 2014 by CN has since been extended to Tuesday, April 29, 2014.
The newly formed Working Committee includes, but is not limited to:
Joe Fratesi, City of Sault Ste. Marie, Chair
Tom Dodds, SSM Economic Development Corporation
Linda Nowicki, Representative for Wawa
Sylvie Fontaine, Representative for Hearst
Councillor Bev Nantel (alternate: Louise Perrier), Representative for Dubreuiville
Chief Joe Buckell, Representative for First Nations (tentative)
Ian McMillan, Tourism Representative for Sault Ste. Marie
Carol Caputo, Tourism Representative for Algoma Region
Al Errington, Representative for CAPT
Dennis Henderson, Representative for Cottage Owners
The Sault-to-Hearst stretch is the only passenger rail line operated by CN, doing so on the basis that the federal government would subsidize its operation due to the remoteness of certain destinations along the line, Sault Ste. Marie CAO Joe Fratesi told SooToday.com
The government definition of 'remote' for the purpose of this funding has changed recently, and if said destination is accessible by road, it no longer qualifies for funding.
"[CN] is a private corporation, and their obligation is not to the taxpayers, they're obligation is to their shareholders. They will stay in this and lose a little bit of money, but they can't stay in this and lose a lot of money without their shareholders raising concern about them being involved," said Fratesi. "I'm confident after having met with them if the subsidy is put back on the table, CN is quite content to operate this piece of passenger rail."
"It appears to us that Transport Canada made the decision without the benefit of public consultation, without the benefit of an economic impact assessment, on a very specific and narrow view," said Tom Dodds, CEO of the SSM Economic Development Corporation. "It was all about defining what was going to receive financial support for remote passenger service. I have a definition they've provided to me and it seems to me there are communities that fit that definition."
Linda Savory-Gordon, Coalition for Algoma Passenger Trains (CAPT) board member, explained that many of these 'roads' cited as accessibility points by the federal government are often not much more than trails or logging roads, many of them located on private property.
These 'roads' may be illegal for the public to access and can be dangerous to traverse due to flooding, downed trees, and the lack of cellular service in the area.
"This is not first time that eligibility according to that program has been called into question, but in the past there were opportunities for the various stakeholders to make a case for why they should still be considered a remote location," she told us. "Transport Canada did not do their due diligence in our opinion because they didn't actually come and see the situation as far as alternative forms of transportation into that area. They based their assumptions on very faulty information."
Should the one-year extension be granted, Fratesi stressed that a permanent solution must be developed and implemented prior to the new deadline.
This could include funding from other sources, an increase in passenger usage fees, and/or demonstrating to the federal government that the passenger rail line is a vital service to the area.
At tonight's meeting of City Council, it was agreed that up to $50,000 from the City's Economic Development Fund will be made available to the Algoma Central Railway Working Committee for its quest to obtain this one-year extension.
CAPT invites the public to attend upcoming Town Hall Meetings hosted in Sault Ste. Marie on February 19 at 7:30 p.m. at City Hall, in Wawa on February 20 at 10 a.m. in the Michipicoten Memorial Community Centre, and in Hearst at 8 p.m. in the Companion Hotel.
Harry Gow, president of Transport Action Canada, will be a guest speaker and a short film presentation hosted by Michael Burch, and Joanie and Gary McGuffin will take place.
For additional information about these meetings and other CAPT initiatives, please click here.
Additional SooToday.com coverage of this story
Source: http://www.sootoday.com/content/news/details.asp?c=68609