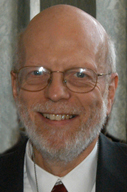 The National Association of Railroad Passengers (NARP) announced this week that Ross Capon will be moving on from his 39-year career with the organization. Larry Scott will take over as acting president.
Capon joined NARP in 1975 and became its executive director in 1976.
"During Ross's time at NARP, the association's recognition and influence significantly increased. That's reflected not only in the recognition he has received in the industry, but in the growth of passenger rail across the nation," said NARP Chairman Bob Stewart in a press release.
For his longstanding support of trains, Capon was recognized with the Robert K. Pattison Partnership Award from the Intermodal Passenger Institute in 2000. He had received NARPs Golden Spike Award in 1985.
"I will be working closely with Acting President Larry Scott, and I'm pleased to be able to assist Larry in ensuring the smoothest possible transition in leadership and the continued growth of NARP," Capon said.