From M-Live: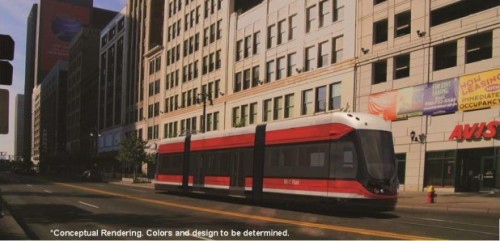 The $140 million lightrail project underway in Detroit has received more than $100 million in philanthropic money from donors, M1 Rail President and CEO Matt Cullen said Monday.
But such money could not be depended on for an expansion of the 3.3-mile streetcar system – whether to Pontiac, Ferndale or even just to Eastern Market. It would depend more heavily on federal dollars, Cullen said.
"They're much, much more likely to support the expansion of an existing system than a new one, so that was one of the reasons we embarked on doing this ourselves," Cullen said after speaking at a Detroit Economic Club luncheon.
And those federal dollars would only come after the project has proven to be a useful addition to the community, he said. Cullen said once the M1 Rail line is up and running, and hopefully is a foundation for the Southeast Michigan Regional Transit Authority, then later it could be built upon.
In the works since 2008, the M1 Rail was first envisioned as a 9-mile Light Rail Transit system stretching from near the Detroit River to 8 Mile Road. But in 2011 that plan was scrapped in favor of the 3.3-mile line, for fiscal reasons.
Cullen said he thought initial estimates for a linear line out to 8 Mile were in the $600 million range, but said he is unsure what exactly it would now cost to expand the line there or beyond to Pontiac, for example.
"It probably wouldn't be hard to extrapolate a per-mile, kind of a linear expense, but it'd be hundreds of millions (of dollars), obviously," he said.
Construction work of the initial lightrail line is evident up and down Woodward Avenue. Scheduled to be complete later next year, the off-wire streetcar will run from Congress Street in Detroit's central business district up to Grand Boulevard near the Fisher Building in the New Center area.
Also on Monday, M1 Rail officials named Brookville Equipment Corporation to design and build six individual streetcars, along with parts and support services for $32 million.
The streetcars from Brookville Equipment are expected to arrive in the fourth quarter of 2016. They'll be equipped with vertical bike racks, WiFi wireless internet and HVAC systems to accommodate Southeast Michigan's wide-ranging weather, and will comply with the Americans with Disabilities Act.
The latest breakdown of public and private money for the M1 Rail project could not be obtained Monday. Messages seeking this breakdown were left with M1 Rail.
According to a report last month in Crain's Detroit Business, government funding from the federal, state and local levels totals $74.2 million, including two grants totaling $37.2 million from the U.S. Department of Transportation.
Cullen and proponents have said that similar projects across are followed by 10-20 times as much economic investment.
"We would expect to see billions of dollars in economic development," Cullen said Monday.
Source: http://www.mlive.com/business/detroit/index.ssf/2015/06/m1_rail_ceo_future_expansion_d.html