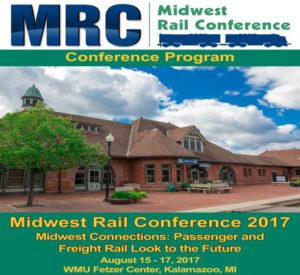 Midwest Rail Conference
"Midwest Connections: Passenger and
Freight Rail Look to the Future"
August 15-17, 2017
WMU Fetzer Center, Kalamazoo MI
In its fifth year, the Conference focus has been expanded to encompass the broader Midwest region. In addition, the 2017 conference will join forces with two other events by leading rail transportation organizations: the Summerail 2017 event organized annually by the Freight Rail Transportation Committee (AR040) of the Transportation Research Board; and the annual meeting of National University Rail Center (NURail), the first USDOT OST-R University Transportation Center dedicated to the advancement of North American rail transportation.
Events will kick off with the Student Scholarship Fundraiser Golf Outing at the Ridgeview Golf Course and Committee Meetings on Tuesday morning/afternoon, followed by the Opening Reception and live music with the Norfolk Southern Lawmen Band at the Bell's Brewery "Backroom" in Kalamazoo.
Technical Sessions will take place all day Wednesday, August 16, at the WMU Fetzer Center. The luncheon Keynote Speaker will be Joseph McHugh, senior vice president and chief for Amtrak Government Affairs and Corporate Communication.
The opening plenary session is a panel on "Autonomous Vehicles and Their Impact on the Rail Industry". Following that, three panelists will talk about "State DOT Rail Programs" in Ohio, Indiana and Wisconsin. "High(er) Speed Rail" will be discussed from the perspectives of IL-DOT, an academic researcher, and a rail and transit consultant from Parsons Brinckerhoff. Other break-out sessions will discuss "Future of Freight", "Urban Rail", "Short Lines", and "Inter-City Passenger Services".
The conference will wrap up on Thursday with field trips featuring a visit to a Cargill facility in Decatur, a train ride to Battle Creek on the upgraded Wolverine Higher Speed Rail Corridor, topped off with a visit to the Little River Railroad in Coldwater.
CLICK HERE to view the Conference Program
REGULAR REGISTRATION begins July 1 at a rate of $250 per person.
Blocks of rooms at four Kalamazoo hotels will be held until July 24 for conference participants.
To register, view the complete 3-day Agenda, and learn about lodging Visit  rail.mtu.edu/event/mrc2017