Spring 2009 stories include: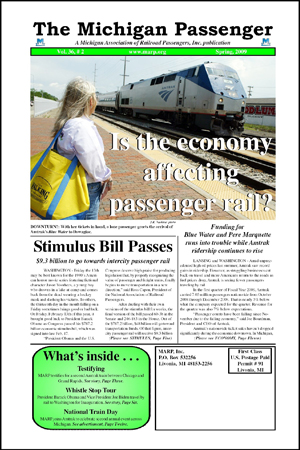 • Is the economy affecting passenger rail? – Funding for Blue Water and Pere Marquette runs into trouble while Amtrak ridership continues to rise.
• Stimulus Bill Passes – $9.3 billion to go toward intercity passenger rail.
• Apologizing and Testifying – Amtrak apologizes for December incident; MARP testifies for second Pere Marquette train.
• Causing Delays – City officials want Amtrak trains to stop traffic backups through downtown Jackson.
• Changes to Amtrak's Board – Carper becomes Chairman; Stadtler appointed CFO.
• OneRail – Coalition forms to promote rail investment.
• Counting Down – Time nears for construction of Troy's proposed transit center.
Amtrak vs. Winter: Round 2 – Equipment failures play role in delaying Amtrak trains this winter.
• Tracking Lincoln's Route – Obama and Biden host Whistle Stop Tour to Washington for Inauguration.
• Norma's Folly – Norma Ward honored for saving Durand Union Station.
• Regional Chair Found – Fischer named new East/Central Regional Chair.
• MARP Members at Work
• Notes from Membership Meetings
• Chairman's Corner – The Stimulus: Pork or Progress?
• Midwest Cascade
Published quarterly, The Michigan Passenger serves as the official publication of the Michigan Association of Railroad Passengers. Copies of the publication can be found at every Amtrak station in the state of Michigan as well as locations having interest in passenger rail such as local libraries, hobby stores and city halls. To receive this publication at your home or business, you must become a member of MARP. Join by filling out the application in the About MARP section of this website.