Summer 2009 stories include: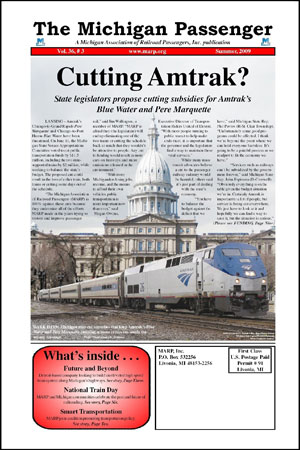 • Cutting Amtrak? – State legislators propose cutting subsidies for Amtrak's Blue Water and Pere Marquette
• Stimulus Money at Work – Jackson receives $938K to restore historic Amtrak station.
• Back to the Future – Elevated high speed rail system could come to Michigan.
• Engineer Blamed – Amtrak engineer blamed for 2007 crash involving Grand Rapids-to-Chicago Pere Marquette.
• Schedule Changes for Amtrak's Blue Water, Wolverine and Thruway Motorcoach Services.
• Ridership going down? – Economy affects Amtrak ridership in Michigan.
• Skiers take Amtrak.
• Michigan Celebrates National Train Day – Thousands turn out to celebrate the past and future of railroading.
• Amtrak President visits Michigan.
• Safe for Now – Detroit votes to demolish Michigan Central Terminal.
• Christmas in September – Disney tour train to roll into Michigan this fall.
• Transportation for America – MARP joins coalition promoting smart transportation solutions
• Notes from Membership Meetings
• Chairman's Corner – There's Still a 1st Amendment
• MARP Members at Work
Published quarterly, The Michigan Passenger serves as the official publication of the Michigan Association of Railroad Passengers. Copies of the publication can be found at every Amtrak station in the state of Michigan as well as locations having interest in passenger rail such as local libraries, hobby stores and city halls. To receive this publication at your home or business, you must become a member of MARP. Join by filling out the application in the About MARP section of this website.